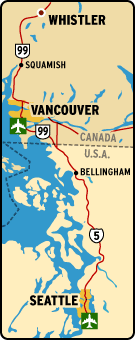 Our last reunion was almost ten years ago and the time has come to reestablish and renew our family ties.
The last reunion in 1997 was a tremendous success, with over 125 Olsons attending and family members coming from as far away as Sweden, and we hope to see even more family members in 2008.
The reunion will be held at the Whistler resort, located in Canada just north of Seattle and east of Vancouver. The scenery at Whistler is stunning in the summertime with a range of recreational options including hiking, fishing, golfing, mountain biking, and much more available.
Please see our lodging information page for information on making lodging reservations, including a discounted rate for family members at the Whistler Marriott for reservations made before July 13, 2008.
Also note that by the date of the reunion, U.S. citizens must carry a passport or proof of citizenship for entry into Canada. A passport information page has been created to answer your questions and help you navigate any passport issues.